17 May Reopening
Responding to the announcement on 10 May, CAMRA's national chairman, Nik Antona, made the following comments, "CAMRA are delighted that indoor opening is on track to go ahead from 17th May, so customers can enjoy the social and wellbeing benefits of being back inside the local – not just in its beer garden. This will also help the thousands of pubs, particularly smaller community locals, that do not have outside space and who desperately need to start getting money through the tills again. Whilst this next step is very welcome, we aren't out of the woods yet. Distancing and table service only restrictions will still mean many pubs can't operate at full capacity with many continuing to struggle to make ends meet as a result. The Government should continue to support the beer and pubs sector in the months and years ahead by backing CAMRA's campaign to cut the rate of duty on beer served in pubs, with the savings passed on to publicans and consumers. This would help pubs to compete with cheap supermarket alcohol and encourage responsible drinking in the supervised setting of the community pub."
Vaccination passports
This story emerged just after the last edition was published. It appeared that, based on early comments by the Prime Minister, the Government intended to use so-called vaccine passports to control entry to pubs and restaurants. The reaction from the trade – and from some Conservative MPs – was universally hostile. A 'Whitehall source' subsequently told the Guardian, "The team looking into the measures had decided to focus attention on 'high risk settings'. The inquiry has not ruled out lettings landlords and restaurant owners make their own judgements about terms of entry." The events in question began with the FA Cup semi-finals. CAMRA took the view that this was the 'right call for consumers and licensees alike', with Nik Antona adding, "The social and wellbeing benefits of pub going should be available to everyone, and the Government still has not provided any evidence that hospitality businesses have been a major vector for virus transmissions so we saw no reason why the sector should be singled out for more unfair treatment."
Judicial Review of opening date
The judicial review brought by Hugh Osmond and Sacha Lord failed. They had argued that if non-essential shops were able to open on 12 April then so should pubs and restaurants, both inside and outside. The High Court however ruled that, given the seriousness of the COVID outbreak, the Government's cautious approach was not unreasonable. It was quite an acrimonious event. Osmond and Lord asked for the case to be heard early because it was time sensitive and the High Court agreed, despite Government objections. There were also complaints that the Department of Health and Social Care had been stalling by delaying the release of reports that the court had asked to see. Mr Lord commented, "Despite the outcome, we will continue to hold the government to account and demand evidence-based decisions, rather than those drafted without detailed analysis or based on bias or whim."
Beer shortage and pricing
Unsurprisingly, many of us did not hesitate to return to our pubs. By the time of the May Day Bank Holiday weekend, breweries reported that they were running out of beer. Perhaps it was for the best that it was wet, cold and windy. Given the amount of beer that pubs had to pour away because of the various lockdowns, you can understand why pubs might have been cautious about how much beer they stocked up with, while some pubs chains admitted that they had been caught out.
The chief executive of Mitchells & Butlers told the Financial Times, "we all of us overshot our forecasts". With breweries, the smaller ones just about coped. It was the large producers who were caught out, which is surprising given that they primarily make lager and keg beers (with a long shelf life) on an industrial scale. Two brands were specifically mentioned, Moretti and Amstel. I wonder if it is significant that these are brewed in Europe and imported.
Beer prices have also become an issue, with increases of anything between 10p and £1 being reported. In a survey conducted by the Morning Advertiser, 51 of the 88 pub operators who took part said that they had increased their prices. In fairness we must acknowledge that, especially while they were only able to open outside, pubs were working on much reduced margins with higher costs, such as additional staff for table service and front of house and the purchase or hire of gazebos and the like. Pubs were, of course, also having to pay more themselves. Heineken, for example, had delayed their own annual price increase from January until April.
Some pubs were also adding a service charge to beer prices on the basis that they were giving table service. In one case this was 12.5%, taking the price of a pint of Doom Bar from £4.80 to £5.40. Another pub was charging a 5% 'COVID tax'. One publican was quoted in the Mail Online as saying that his business development manager had told him not to be worried about charging more because, with most people now paying by card, they would not notice it.
Every little helps
We usually see the large supermarket chains as a threat to pubs but, according to the Manchester Evening News, on 13 April Tesco posted the following message on its Facebook account, "Pubs have had it tough this year. So, as good as our deals are, this week we'd rather you support your local pub (as long as you feel safe to do so)."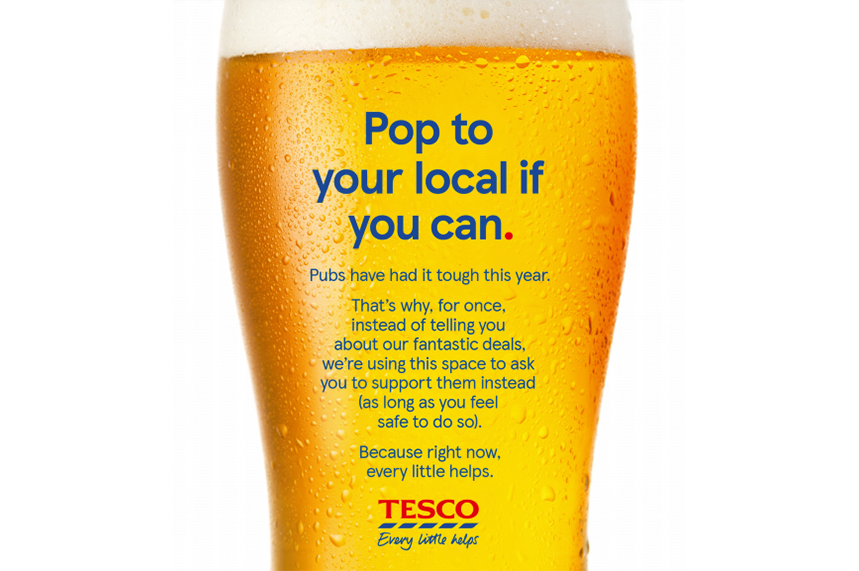 It appears that not everyone was happy to see pubs reopen. The White Horse at Tea Green in Hertfordshire spent £25,000 on creating a 'secret garden' outdoor area, complete with a barbecue pit and a children's play area, ready for reopening on 12 April. Sadly, the night before, someone set it alight. The police are treating it as arson. Happily, there are some good people about and customers started a crowdfunding appeal to fund the repairs.